coming soon.....


SO YOU WANNA' KNOW MORE???

click photos to email the interns (except Oscar, he doesn't want to speak to anybody!)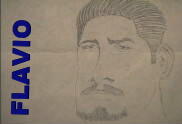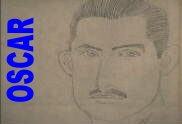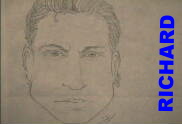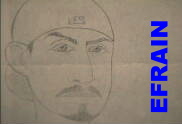 EMAIL FLAVIO @ flavio72@aol.com
EMAIL RICHARD @ illegal06@earthlink.net
EMAIL EFRAIN @ efa64@earthlink.net
or ALL THE INTERNS AT ONCE!!!
Ever wonder what 4 chicano/latino/hispanic young men with a video camera, mics, and a little bit of editing knowledge would put on t.v. Well, to many first time viewers, they can relate to much of whatever we may be documenting. We interview artists, musicians, film makers, activists, start up businesses, and a chingon of other stuff.
To many of you who may not be familiar with our program, it is our ninth year airing on various cable systems, public access channels, broadcast uhf channels, lease access channels, and even a couple film festivals. We started doing our program as a way to fill our community service (short for parole time) requirements at Buenavision Cable in East Los Angeles. We aired everything we had; family footage, campy video shorts, videos of our friends bands, and other desmadre. The thing that made us click with many of our viewers is that we would share our 2nd and 3rd generation Mexican/American perspectives. Mostly in English, we on occasion had guests that vaguely spoke English, and Flavio handled that just fine, and Richards lack of mastering Espanol was an honest gimmick that just worked.
So if you want to know what we are working on, or maybe you might just wanna drop us a line, come back again... Ideas, comments, questions, threats...we take 'em all...

Who are we? 4 young in Latinos (if your Caucasian, we never really did hard jail time). Flavio, Oscar, Efrain Morales (yes brothers) and Richard Estrada, all born and raised in East Los Angeles. The Morales Bros. all products of the public education system, while Richard was tramatized at the idea of going to a school with no books. He attended Loyola High School. They all spent some time walking the halls of ELA Community College and later learning that they had no media production courses. To this day, they still don't.
One Friday evening at Dodger Stadium back in '90 during batting practice, Pedro Guerrero hit a hard line drive into the right field bleachers. What happended next, changed the lives of 3 young men and a kid forever.
The ball rocketed into the stands as fans dove for the ball. Out came a giant of a man 5'9" weighing in at 162lbs. with the ball in his bare gloved hand. As the pile cleared, a small child was scooped up and taken by the ushers to his parents. As they later found out, he drove himself to the game. He claimed he was beaten for the ball and that it rightfully belonged to him. The ushers walked him over to the "Giant" and the boy whispered in his ear. What was said may never be known, but they ended up at Buenavision Community Television and started a radio show.

What is ILLEGAL interns? It's a variety show but with a twist, the music, interviews and shorts featured on the show are not usually seen on any form of television and media. We cover the events, artists, and people that matter to the youth of today. Just think, "Benny Hinn" meets "Crocodile Hunter" in the streets of Los Angeles and beyond.
Where did we come from? Our show began on public access, then we tried lease access, and in 1994 were asked to join World Television uhf ch. 38 in Los Angeles serving about 400,000 homes in L.A. county. Since September of 1998, we have been airing our program weeknights at 10pm on KJLA TV 57. The program now airs on 712,00 cable households and and covers 4,000,000 households in total. Why do we feel so unique? Much of the topics covered on the show are not seen on T.V. Where else will you see interviews, live performances, shorts and complete anarchy from a Latino perspective?





ILLEGAL intern productions
2168 S. Atlantic Blvd. P.M.B. #332
Monterey Park, CA 91754
(626)588-4797
fax (323)269-1346
c/safados
1999


CALENDAR OF EVENTS
MUSIC NEWS
PAYASO CLOWN
TOP 5 CD'S
QUESTIONS & ANSWERS
PHOTOS
LINKS